Introducing InLei Lash Lift Filler Training & Exclusive Products for Beauty Professionals in Visalia, California
Welcome to My Absolute Beauty, your one-stop destination for the finest range of lash & brow treatments crafted specifically for beauty professionals.
Elevate Your Lash Game with InLei: Unleashing the Power of InLei Lash Lift & Filler
At the heart of InLei's transformative offerings lies the revolutionary InLei Lash Filler, a true game-changer in the realm of beauty and lash professionals. This product stands as a testament to InLei's commitment to providing unparalleled solutions for professionals who seek enduring and dependable results for their clients. What distinguishes the InLei Lash Filler is its ability to significantly boost lash volume plus utilization of top-tier ingredients, ensuring consistently remarkable outcomes. Whether you're delving into lash lifting, lamination, or tinting, the InLei Lash Filler emerges as the go-to choice, an indispensable tool in the arsenal of beauty experts.
Experience the InLei Difference:
Exceptional Lash Lifts: Our InLei Lash Lift and Filler have been proven not only to lift the lash but also to impart significant extra volume, setting it apart from the competition.
Professional-Grade Ingredients: All InLei products boast professional-grade ingredients, guaranteeing an exceptional result that meets the high standards of beauty professionals.
Explore our Range of Professional Products:
InLei Lash Filler and Tint Kit: Elevate your lash and brow treatments with our high-quality professional kit, designed to deliver impeccable results.
Eyelash & Brow Tint Set: Immerse yourself in the world of professional beauty with our exceptional tint set, an invaluable tool for any beauty professional.
InLei®: Setting the Standard for Beauty with Premium Lash and Brow Products
A pioneering brand crafted entirely in Italy, and elevated the art of enhancing lashes and brows to unprecedented heights. Recognized globally as a frontrunner in the eyelash and eyebrow industry, InLei® stands as a symbol of excellence, quality, and innovation. Tailored exclusively for professional beauticians, the product range has redefined lash and brow lamination, tinting, and care, providing a comprehensive solution for beauty experts who aspire to deliver nothing short of perfection.
Why Choose InLei®?
Italian Craftsmanship: Crafted with precision and care in Italy, these products embody the essence of quality and artistry.
Global Recognition: Renowned worldwide, InLei® is a trusted name in the beauty industry, synonymous with cutting-edge solutions.
Exclusively for Professionals: Designed for professional beauticians, they cater to the unique needs of those who strive for excellence in lash and brow treatments.
Embark on a Journey of Beauty Excellence with My Absolute Beauty and our exceptional Lash Lift product line.
As you explore the world of InLei®, you're not just choosing products; you're embracing a legacy of innovation, quality, and distinction. Join us in redefining beauty standards, where every lash and brow treatment become a masterpiece.
We don't just offer products; we offer a pathway to success. Our commitment to quality and excellence is manifested in our Lash Lift Filler training, and the premium brands we provide such as InLei, purHenna, Everlasting Brows, and Glow & Skin.
Lash Lift & More: Our Wide Range of Services
We understand that beauty is an ever-evolving field, and to stay ahead, you need the best tools and knowledge. Our offerings aren't restricted to just Lash Lift products and training; we cover an array of services, including:
Lash Lifts: Transform lashes into a fuller, uplifting appearance.
Tints: Add depth and color to brows and lashes.
Brow Lamination: Create well-groomed, sleek brows.
Microblading: Artistic brow enhancement for a natural look.
Top-notch Brands That Define Excellence
Our collaboration with elite brands like InLei, purHenna, Everlasting Brows, and Glow & Skin ensures that you receive products that set industry standards. These brands are synonymous with quality and are trusted by professionals across the globe.
Our Inclusive Training Programs
We're not just about the supply of products; we're about nurturing talent and cultivating success. Our training programs are designed to elevate your skills to a level that sets you apart from the competition. Whether you are new to the field or have previously trained with other products, we have something for you:
Certification Courses: Become a certified professional with My Absolute Beauty and stand out with market-leading products and knowledge.
Conversion Courses: Already trained in other procedures or products? We provide conversion courses to help you adapt to our leading-edge products.
My Choose My Absolute Beauty?
Quality: We believe in nothing less than excellence. Our products reflect our commitment to quality.
Expertise: With years of industry experience, our training sessions are more than lessons; they are insights into success.
Business Growth: We don't just make you a beauty expert; we help you grow your client base and generate higher income.
Exclusive Professional Products: Our products are crafted for beauty professionals only, ensuring the highest standards.
Join the Success Journey with My Absolute Beauty
With our products, training, and commitment to your success, My Absolute Beauty is your perfect partner in your beauty journey. By choosing our Lash Lift Filler training and products in Visalia, California, you're not just choosing to enhance your skills; you're choosing a pathway to success.
Ready to transform your beauty business? Explore our range of products, courses, and more, and take the first step towards a more beautiful future. At My Absolute Beauty, we believe in you and your potential. Join us, and let's make beauty more beautiful together.
Elevate Your Beauty Career with Lash Lift Filler Training & Products in Visalia, California – A My Absolute Beauty Insight
Our Prestigious Brands
Choose from an extensive range of the best lash and brow treatment products, exclusively designed for beauty professionals. Our market-leading brands include:
InLei: Revolutionize your lash lift, tinting and brow lamination with our authentic InLei range, including the amazing Brow Bomber products. Our InLei Lash Lift and Filler is proven to not only lift the lash but give significant extra volume. All inLei products use professional grade ingredients for an exceptional result.
The InLei Lash Filler and Tint Kit and Eyelash & Brow Tint Set are high quality professional products, that will be an amazing tool for any beauty professional.
purHenna: The finest natural henna brows solution.
Everlasting Brows: The name says it all, perfect brows that last.
Glow & Skin: Revolutionize your skin treatment regimen with our exclusive skincare line.
Become a certified beauty professional with My Absolute Beauty! We offer a wide array of courses, including specialized Conversion courses for those trained in other products and procedures. Whether you're a novice or an expert, we have the right course for you.
Professional Growth
Our courses are not just about teaching; they're about empowering you to grow your client base and generate higher income. Our certified professionals enjoy increased business opportunities, thanks to our renowned training and exceptional products.
Explore Our Services
Lash Lift and Tints
Master the art of Lash Lifting and Tinting with our dedicated training courses and top-quality products. Enhance the natural beauty of lashes with the touch of professional expertise.
Brow Lamination
Take brow beauty to the next level with our Brow Lamination courses and products. Create fuller, perfectly styled brows that captivate.
Microblading
Join our Microblading courses and learn the precision art of semi-permanent eyebrow drawing. Our products guarantee stunning and long-lasting results.
Become a Certified Trainer
As a My Absolute Beauty certified professional, you can also become a trainer! Share your expertise and inspire others in the beauty industry.
Your success as a beauty professional is our priority. With our extensive range of products from top brands like InLei, purHenna, Everlasting Brows, and Glow & Skin, along with our comprehensive training programs, we are dedicated to helping you shine in the competitive beauty market.
Join My Absolute Beauty's family today and take the first step towards a more prosperous beauty career. Contact us now to explore our offerings in InLei Lash Lift Filler Visalia, California, California and let us be part of your journey to success.
Why Choose Our Training?
Market-Leading Products: Train with the best lash and brow products that are crafted for beauty professionals only.
Certified Expertise: Gain recognition with our acclaimed certification.
Supportive Community: A network of professionals who thrive together.
Continuous Learning: Our conversion courses ensure that your skills are always ahead of the curve.
Unleashing Your Potential: A Partnership with My Absolute Beauty
With My Absolute Beauty, you're not just buying products or enrolling in a course. You're investing in your future, in the dreams you've fostered, and in a partnership that understands your aspirations.
Your success is our success, and we're dedicated to ensuring that your journey with us is nothing short of extraordinary. It's more than a business; it's a movement towards excellence, a journey adorned with trust, quality, and relentless pursuit of perfection.
Connect with us today, and let the transformation begin.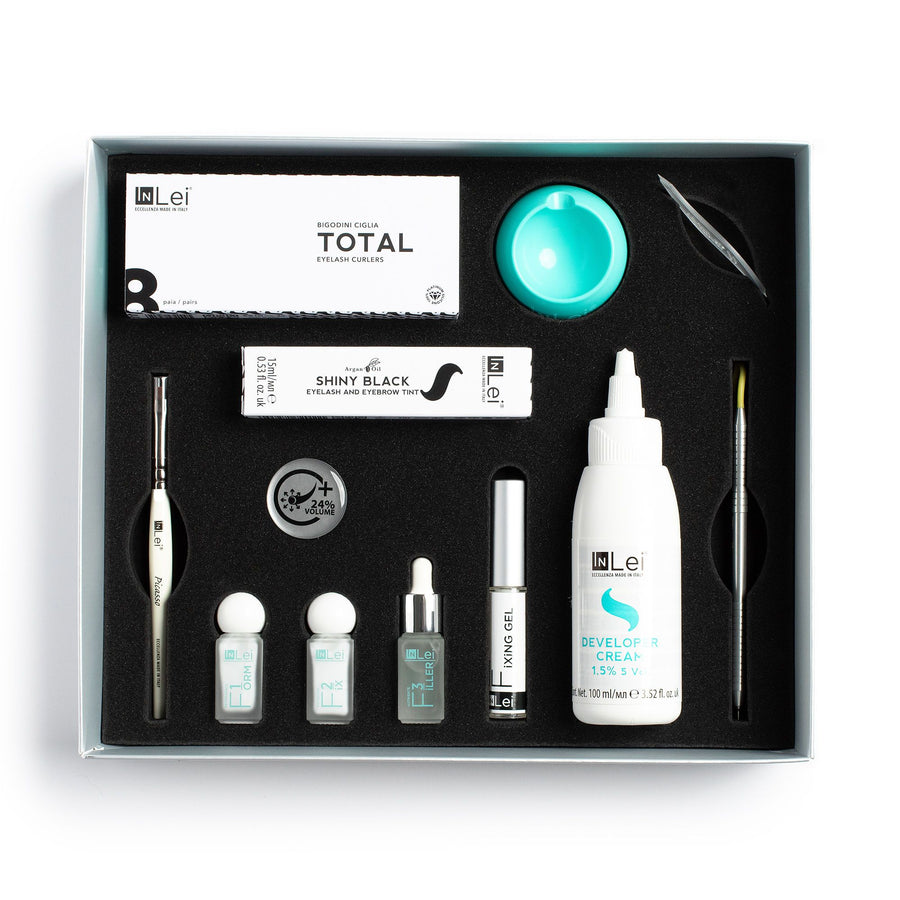 InLei® Lash Filler & Tint Kit
Limited time offer - hurry before the deal expires!
Are you a lash tech in search of an advanced lift solution? InLei® Lash Filler & Tint Kit is the answer - customers will experience 24% fuller lashes after 3 treatments, with long-lasting results.
LEARN MORE
No Hidden Costs!
Say goodbye to surprise fees at checkout and enjoy the peace of mind that comes with free shipping on all orders over $150.
Advanced Technology
Stay ahead of the curve with our selection of products that use the latest technology to deliver professional-grade results.
Professional Use Only
Join the ranks of top beauty professionals and elevate your game with our exclusive line of professional-use products.