Lash Lift Supplies in Altoona, Pennsylvania – Elevate Your Beauty Business with My Absolute Beauty
Explore top-of-the-line lash lift supplies in Altoona, Pennsylvania, exclusively for beauty professionals. Discover premium brands like InLei, purHenna, Everlasting Brows, Glow & Skin, and transform your business. Receive training in the latest lash techniques and embrace the future with My Absolute Beauty.
Welcome to My Absolute Beauty, where we make your business aspirations a reality through our unique offering of professional lash lift supplies in Altoona, Pennsylvania. As the forefront name in beauty industry empowerment, we strive to provide you with top-quality products combined unparalleled training that will skyrocket your success.
Our Top-Tier Brands
Your success deserves nothing but the best, and that's why we have carefully curated a selection of the finest brands in lash & brow treatments. Our product range encompasses world-renowned brands like InLei, purHenna, Everlasting Brows, and Glow & Skin.
These market-leading products ensure the best results for your clients, giving you a competitive edge in today's ever-evolving beauty landscape.
Lash Lift Supplies and More
At My Absolute Beauty, we understand the value of innovation and versatility. Our expansive offering includes everything you need to perform stunning Lash Lifts, vibrant Tints, exceptional Brow Lamination, and precise Microblading.
Imagine your clients walking out of your salon with the dazzling eyes and the brows they've always desired. With our lash lift supplies and accompanying products, you have the key to unlocking unlimited potential in your business.
Are you ready to take your lash business to new heights of success? At My Absolute Beauty, we understand that achieving the perfect lash lift and tint, requires not just skill but also the right products. We've curated a selection of essential items that are your secret weapons to professional success.
Lash Lift Kits: Our comprehensive lash lift kits include everything you need to create stunning results. From lifting solutions to setting lotions and silicone rods, our kits are designed to make the lash lifting process efficient and effective, giving your client's stunning results every time.
Professional-Grade Tools: Precision is key in the lash lift business. That's why we offer a range of high-quality tools, including precision tweezers, lash combs, and micro-brushes, to ensure you can work with confidence and achieve impeccable results.
Top-Notch Lifting Products: Our lifting solutions are formulated to provide long-lasting and natural-looking results. They're gentle on the lashes while delivering the perfect lift that your clients desire.
Silicone Rods: The key to a perfect curl lies in the silicone rods you choose. We offer a variety of sizes to cater to different lash lengths and shapes, allowing you to customize the lift for each client.
Eye Pads and Tapes: Protecting the delicate eye area is essential. Our eye pads and tapes are designed for comfort and security, ensuring your client's safety and satisfaction.
Aftercare Products: Enhance the longevity of the lash lift with our range of aftercare products. From lash serums to nourishing oils, we have everything you need to help your clients maintain their lifted lashes.
Training and Support: We don't just provide products; we're here to support your success. Explore our training programs and resources to hone your skills and stay updated with the latest techniques in the industry.
At My Absolute Beauty, we're dedicated to your success, and that's why we offer a carefully curated selection of products and resources. With the right tools and training, you can take your lash lift business to the next level and provide your clients with stunning, long-lasting results. Ready to elevate your lash business? Explore our products and experience the difference today. Your success is our priority.
A Comprehensive Range of Lash Lift Supplies for All Your Professional Needs
At My Absolute Beauty, we proudly provide a wide product range catering specifically to lash & brow treatments for busy professionals. Our handpicked brands include:
InLei: Revolutionize your lash lift, tinting and brow lamination with our authentic InLei range, including the amazing Brow Bomber products. Our InLei Lash Lift and Filler is proven to not only lift the lash but give significant extra volume. All inLei products use professional grade ingredients for an exceptional result.
The InLei Lash Filler and Tint Kit and Eyelash & Brow Tint Set are high quality professional products, which will be an amazing tool for any beauty professional.
InLei®: Elevating Beauty with Professional-Grade Lash and Brow Products
In the realm of beauty, where eyes are often considered windows to the soul, nothing quite accentuates their allure like perfectly framed eyelashes and eyebrows. InLei®, a trailblazing 100% Italian-made brand, has taken the art of enhancing these features to new heights. Renowned globally as a frontrunner in the eyelash and eyebrow industry, InLei® is a name synonymous with excellence, quality, and innovation. With an extensive range of products designed exclusively for professional beauticians, InLei® has redefined lash and brow lamination, tinting, and care.
Italian Craftsmanship Meets Professional Excellence
InLei® stands as a testament to the ingenuity and precision that Italian craftsmanship is renowned for. As the first Italian brand solely dedicated to eyelash and eyebrow products, InLei® has firmly established itself as a world-leading authority in the field. Over the years, a team of dedicated professionals with unparalleled expertise has meticulously crafted products that set industry standards. These products are tailored to meet the specific needs of beauty professionals, ensuring unparalleled results with every use.
Revolutionizing Lash Enhancement with InLei Lash Filler
The cornerstone of InLei's offering is the groundbreaking InLei Lash Filler, a game-changer in the world of beauty and lash professionals. This product has earned a reputation as the ultimate choice for professionals who demand long-lasting and reliable results for their clients. What sets InLei Lash Filler apart is its use of high-quality ingredients that guarantee consistent and impressive outcomes. Whether it's lash lifting, lamination, or tinting, InLei Lash Filler delivers exceptional results, making it an indispensable tool in the arsenal of beauty experts.
Empowering Brows with InLei Brow Bomber
InLei® doesn't stop at lashes; they've revolutionized eyebrow treatments with the InLei Brow Bomber. This product spearheads a new era in eyebrow lamination, providing nourishment that transforms brows into luscious works of art. The Brow Bomber not only adds visible fullness to brows but also nourishes the hair, thanks to the inclusion of ingredients like macadamia oil. What's truly remarkable is that this transformation is achieved without adding any unwanted weight to the hair, leaving brows looking naturally stunning.
Intense and Long-Lasting Tints
InLei®'s commitment to excellence extends to its range of lash and brow tints. These tints utilize a highly effective yet gentle formula enriched with plant-derived waxes. This ingenious formulation allows the product to penetrate deeply into the lash structure, resulting in stunningly intense and long-lasting colors. The pigments employed by InLei® are distinguished by their exceptional purity, guaranteeing remarkable results for both professionals and clients alike.
A Lasting Impression
InLei® is more than a brand; it's a commitment to enhancing natural beauty with professional-grade products. Through years of dedication and innovation, InLei® has not only set industry benchmarks but has also become a trusted partner for beauty professionals globally. The company's unwavering focus on quality, combined with the allure of Italian artistry, has transformed the lash and brow enhancement landscape.
As the beauty industry continues to evolve, InLei® remains at the forefront, empowering professionals to create lasting impressions through the art of enhancing lashes and brows. With a dedication to excellence, a penchant for innovation, and a touch of Italian elegance, InLei® is poised to inspire beauty professionals to reach new heights in their craft, one lash and brow at a time.
purHenna: Create stunning brow effects with our exquisite range of henna colors.
Introducing our PurHENNA Henna Brow Collection – your secret to achieving flawlessly natural, semi-permanent eyebrow tints that harmoniously match your clients' unique hair colors. At My Absolute Beauty, we take pride in offering a henna brow solution that not only provides exceptional results but also prioritizes the safety and purity of the ingredients used.
Our PurHENNA Henna Brow Collection is meticulously crafted using the safest and most pure ingredients available. We understand the importance of maintaining the health and integrity of your clients' skin and hair, which is why our formulation is designed to nourish while enhancing the beauty of their brows.
What sets our PurHENNA apart is the artistry behind our color selection. Each shade is carefully formulated to seamlessly blend with both hair and skin tones, ensuring a natural and radiant look every time. Our henna brow tints are not just about adding color; they are about enhancing the unique features that make your clients stand out.
With PurHENNA, you can trust that your clients will walk away with brows that look not only great but also natural. Say goodbye to harsh, artificial colors, and hello to a stunning, harmonious brow that reflects the individual beauty of each and every client. Beauty is about embracing what's unique, and PurHENNA helps you achieve that with confidence.
Experience the transformative power of our PurHENNA Henna Brow Collection and elevate your brow services to a new level of excellence. Your clients deserve the best, and that's exactly what you'll deliver with PurHENNA.Everlasting Brows: Offering tools and pigments that let your microblading skills shine.
Glow & Skin: Elevate skincare treatments with our specialty skin products.
Certified World-Class Training for Beauty Professionals
Enhance your expertise with our specially curated courses. From lash lift and tinting to brow lamination and microblading, our training modules are designed to equip you with the latest techniques. Led by seasoned industry experts, our courses offer hands-on experience, ensuring you become a certified professional with My Absolute Beauty. Our hands-on training is designed to empower beauty professionals at all levels.
Our certified training program is designed to shape you into a highly skilled professional in the beauty field. With expert instructors our courses cover a wide spectrum of lash and brow treatments.
Conversion Courses Available
And if you've trained elsewhere, our conversion courses are tailored to bridge your existing knowledge to our world-class standards. You'll discover new insights, techniques, and opportunities to further grow your business.
Become a Trainer and Lead the Market
We believe in fostering leaders, not just followers. By becoming a certified trainer with My Absolute Beauty, you take your success to the next level. Empower others with your knowledge and experience while positioning yourself at the forefront of the beauty industry.
The Benefits of Partnering with My Absolute Beauty
Quality Products: By investing in top brands, you're ensuring your clients receive only the best treatments.
Expert Training: Learn from the best in the industry and equip yourself with skills that set you apart.
Ongoing Support: Our team is dedicated to supporting your growth at every stage of your career.
Boost Revenue: With our products and training, you're empowered to attract more clients and generate higher income. Our products and training not only enhance your skills but also add to your portfolio.
Endless Support
Your growth is our success. We provide ongoing support and continuous updates to ensure you stay ahead of the beauty curve.
Empowering You to Succeed
Choosing My Absolute Beauty is more than a business decision; it's a commitment to excellence, growth, and leadership. With our comprehensive range of products, including lash lift supplies in Altoona, Pennsylvania and specialized training, you're prepared to redefine success in your beauty enterprise.
Your journey to the summit of success starts today. Reach out to us, and let's turn your dreams into reality. Become a part of the My Absolute Beauty family, because beauty, like success, is absolute!
Are You Ready to Transform Your Beauty Business?
With our high-quality products and expert training, My Absolute Beauty empowers you to redefine beauty in your own unique way. Invest in your future with the best lash lift supplies Altoona, Pennsylvania has to offer.
Connect with us today to explore our exquisite range of products and unparalleled training opportunities. Let My Absolute Beauty be the catalyst for your thriving beauty business, unlocking new heights of creativity and success. Your journey to excellence starts here!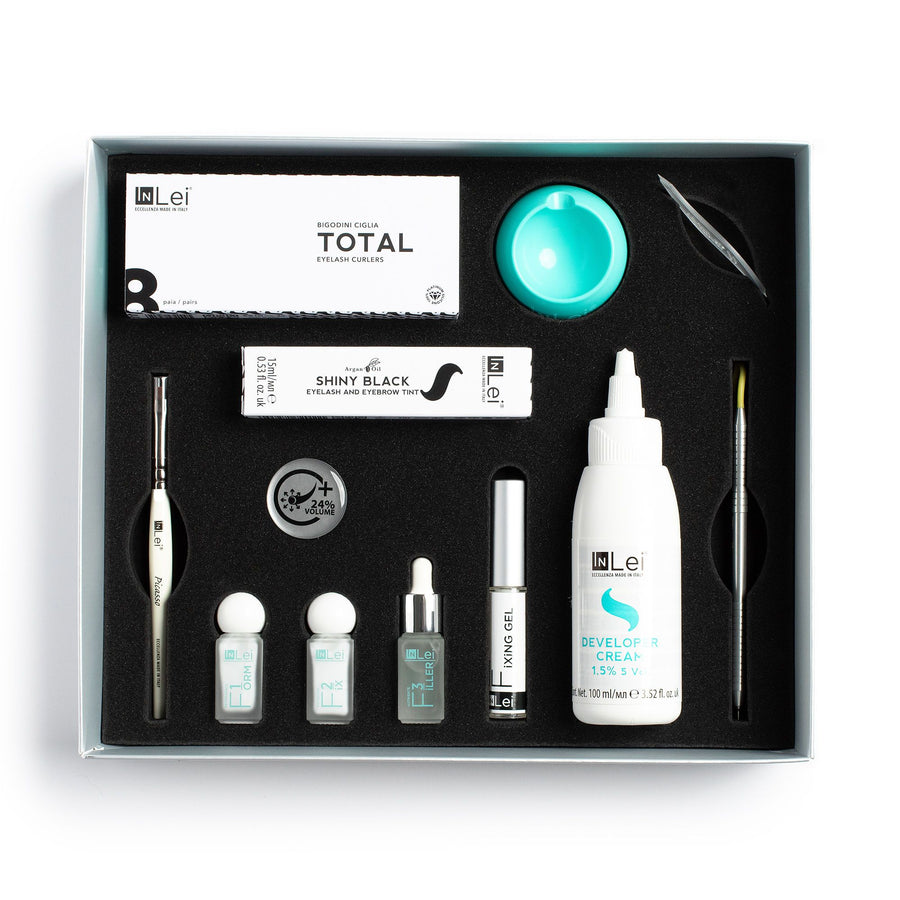 InLei® Lash Filler & Tint Kit
Limited time offer - hurry before the deal expires!
Are you a lash tech in search of an advanced lift solution? InLei® Lash Filler & Tint Kit is the answer - customers will experience 24% fuller lashes after 3 treatments, with long-lasting results.
LEARN MORE
No Hidden Costs!
Say goodbye to surprise fees at checkout and enjoy the peace of mind that comes with free shipping on all orders over $150.
Advanced Technology
Stay ahead of the curve with our selection of products that use the latest technology to deliver professional-grade results.
Professional Use Only
Join the ranks of top beauty professionals and elevate your game with our exclusive line of professional-use products.