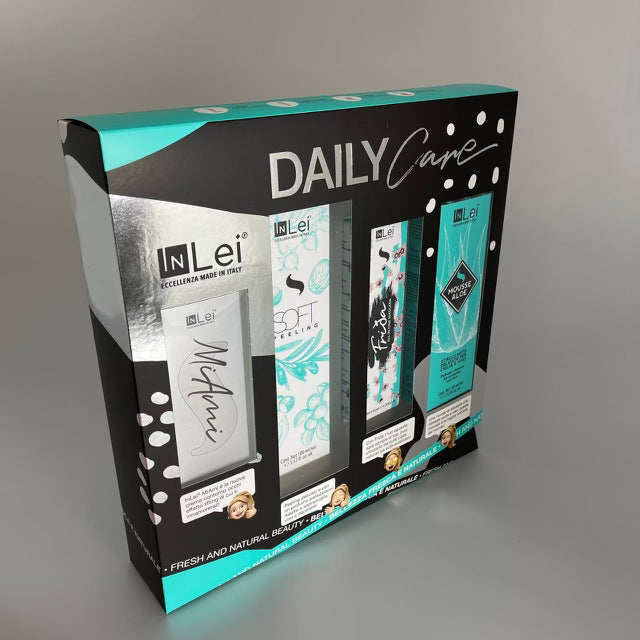 InLei | Daily Aftercare
$67
Suggested Retail $90-$120  InLei Daily Care InLei's aftercare salon resale pack includes: InLei MiAmi Eye Contour Cream: a rich and creamy formula with peptides that helps reduce the signs of aging and rejuvenates the eye area InLei Soft Peeling Exfoliant: a gentle exfoliator that removes impurities and prepares the skin for further treatments InLei Frida Mascara: a nourishing mascara that enhances the look of your lashes and helps to strengthen and protect the hair InLei Delicate Aloe Mousse Cleanser: a gentle and effective cleanser for removing makeup from the eyebrows, lashes, and eyes These products are essential for maintaining the health and appearance of your client's lashes and brows after any permanent or semi-permanent treatments. The InLei MiAmi Eye Contour Cream helps to reduce puffiness and the signs of aging, while the Soft Peeling Exfoliant prepares the skin for further treatments. The Frida Mascara adds extra volume and definition to the lashes, and the Delicate Aloe Mousse Cleanser gently removes all traces of makeup. Whether you are a salon owner looking to offer high-quality aftercare products to your clients or a makeup artist looking to expand your product line, the InLei aftercare salon resale pack is a great choice. With a suggested retail price of $90-$120, it offers excellent value for money and is sure to be a popular choice with your clients.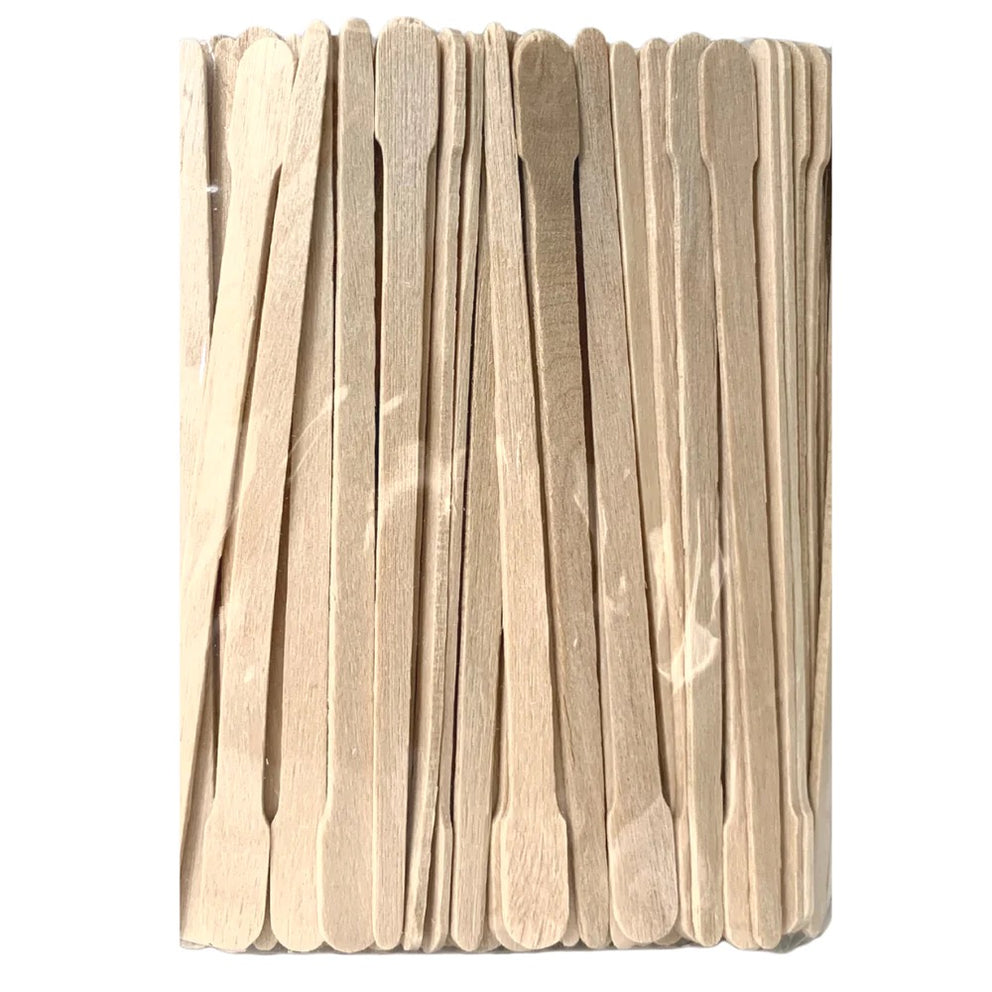 My Absolute Beauty® 3-1/2 Inch Small Wax Sticks - Precision Beauty Tools for Professionals (Pack of 50)
$5
  Unveil the secret to unparalleled precision in your beauty routines with the My Absolute Beauty® 3-1/2 Inch Small Wax Sticks. Crafted to perfection by industry experts, these precision tools are an essential addition to every beauty professional's toolkit, ensuring flawlessly executed procedures every time. Key Features: Precision Crafting: Elevate your artistry with these meticulously designed 3-1/2 inch small wax sticks. Whether you're a lash artist, brow specialist, or waxing professional, these tools offer unmatched precision for intricate and detailed applications. Versatile Performance: These wax sticks are versatile marvels, suitable for a wide range of beauty applications. Perfect for precise eyebrow shaping, flawless waxing procedures, and even intricate crafts, these sticks deliver consistent results that exceed expectations. Quality Materials: My Absolute Beauty® is synonymous with excellence, and these wax sticks are no exception. Crafted from premium-quality materials, they boast durability, ensuring they withstand frequent use without compromising on performance. Ergonomic Design: Featuring an ergonomic design, these wax sticks offer a comfortable grip that minimizes hand fatigue during prolonged usage. Achieve precision without sacrificing your comfort. Optimal Length: At 3-1/2 inches, these small wax sticks strike the perfect balance between control and maneuverability. Navigate even the tightest spaces with ease, ensuring every detail is meticulously addressed. Professional-Grade: Trusted by beauty professionals globally, My Absolute Beauty® products are synonymous with quality. These wax sticks uphold that reputation, delivering professional-grade results that impress clients and peers alike. Hygiene and Convenience:  Each pack of My Absolute Beauty® 3-1/2 Inch Small Wax Sticks contains 50 sticks, individually wrapped to maintain their cleanliness until you're ready to put them to use. With this generous quantity, you'll have an ample supply to fuel your precision applications. Elevate your beauty craft with precision and finesse. My Absolute Beauty® 3-1/2 Inch Small Wax Sticks are the embodiment of precision, reliability, and excellence in the beauty industry. Add these versatile tools to your professional arsenal and experience the art of precision like never before. Order now and let your skills shine through with every meticulous application.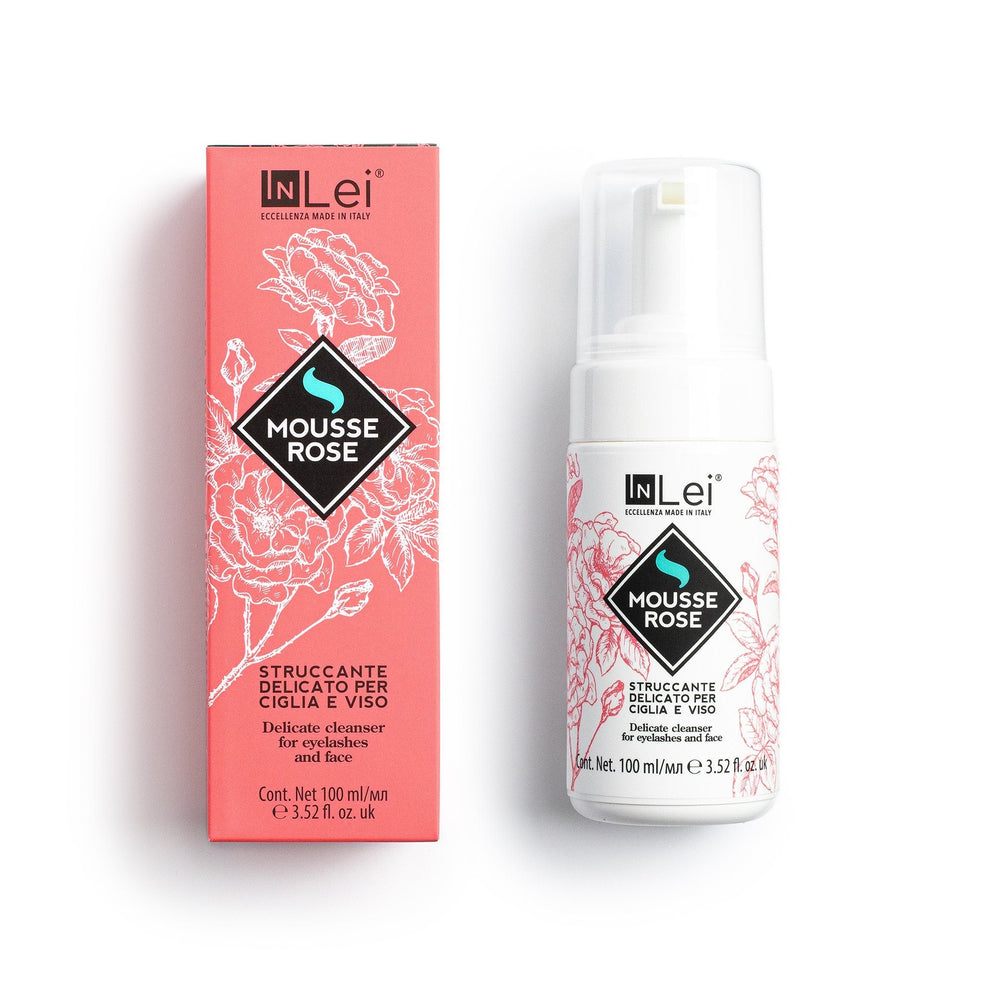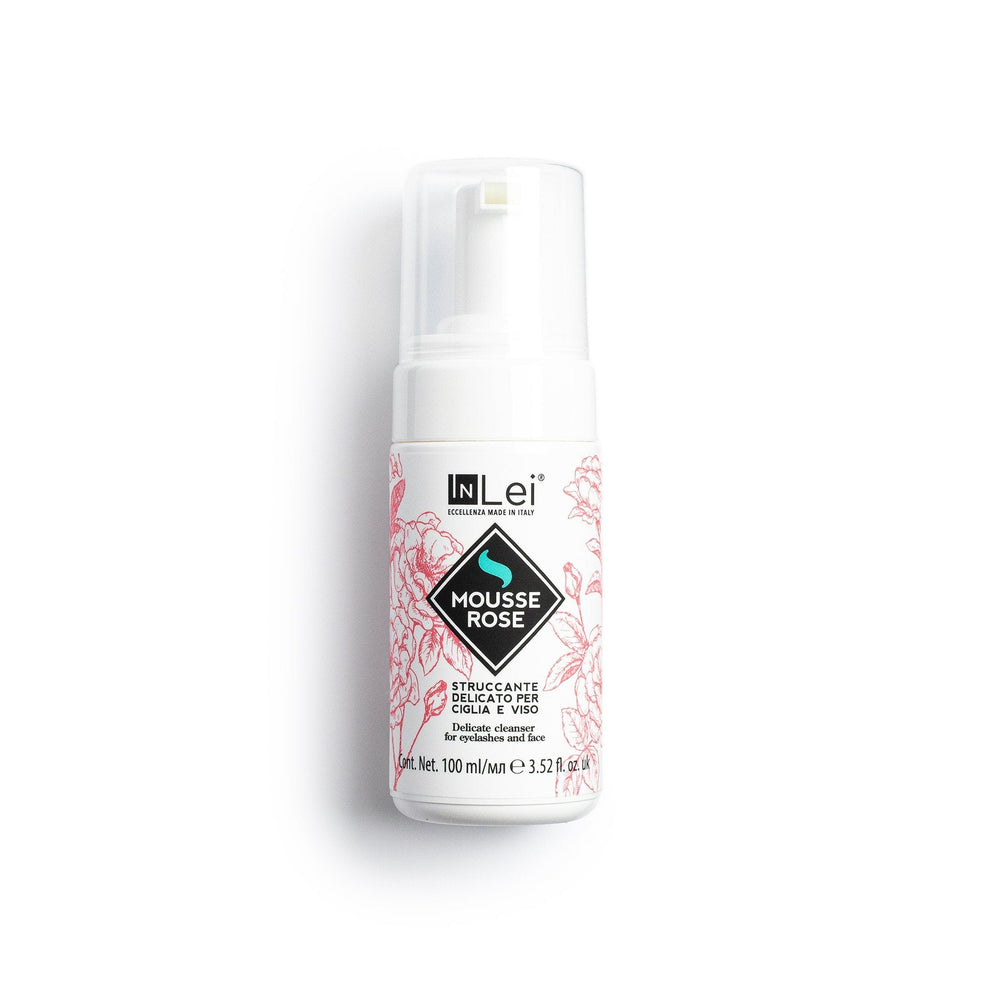 InLei® | Delicate Rose Mousse Cleanser EXP 10/23
$18
$23
Suggested Retail: $40-$60   Note: Although this product expired in October 2023, its quality remains intact, and remains good. InLei® Delicate Rose Mousse Cleanser - the perfect solution for deeply cleansing and moisturizing your clients' skin and hair. Whether it's dust from pollution, natural sebum, or makeup residue, this one product is enough to wash it all away. Here are just a few of the features that make this mousse cleanser stand out: Gentle consistency: The formula is gentle enough for use on sensitive skin and eyebrows, eyelashes, and all areas of the face. Oil-free: The oil-free formula won't leave any greasy residue behind, making it perfect for all skin types. Rose extracts: The rose extracts in this cleanser help to tighten the skin, giving it a more youthful and refreshed appearance. Quantity: The bottle contains 100ml of product, enough to last for multiple uses. Tinting process: This cleanser is perfect for preparing the brows before the tinting process, ensuring a clean and even application. Suitable for lashes: The gentle formula is also suitable for use on the lashes, making it easy to remove any makeup or impurities. Clears impurities: In addition to cleansing the skin, this mousse cleanser is also effective at removing impurities from the hair, leaving it clean and refreshed. Overall, InLei® Delicate Rose Mousse Cleanser is the perfect solution for professionals looking to provide their clients with a deeply cleansing and moisturizing experience. With its gentle formula, oil-free consistency, and skin-tightening rose extracts, this product is sure to become a staple in your beauty routine. Directions to use:  Dispense a tiny amount on fingers and softly massage the area to get treated. Rinse by using cool or lukewarm water. *Also an excellent product to remove makeup at the end of the day. The Delicate Rose Mousse Cleanser does all the cleaning to maintain moisture and protect the skin and hair with nourishment.  *Made In Italy.  Also check: InLei® Delicate Avena Mousse Cleanser | InLei® Delicate Aloe Mousse Cleanser Ingredients: AQUA (WATER\EAU), SODIUM COCOAMPHOACETATE, DISODIUM LAURETH SULFOSUCCINATE, POLYSORBATE 20, CITRIC ACID, BENZYL ALCOHOL, PARFUM (FRAGRANCE), ROSA DAMASCENA FLOWER EXTRACT (ROSA DAMASCÉNA FLOWER OIL), DEHYDROACETIC ACID, SODIUM BENZOATE, POTASSIUM SORBATE.
No Hidden Costs!
Say goodbye to surprise fees at checkout and enjoy the peace of mind that comes with free shipping on all orders over $150.
Advanced Technology
Stay ahead of the curve with our selection of products that use the latest technology to deliver professional-grade results.
Professional Use Only
Join the ranks of top beauty professionals and elevate your game with our exclusive line of professional-use products.