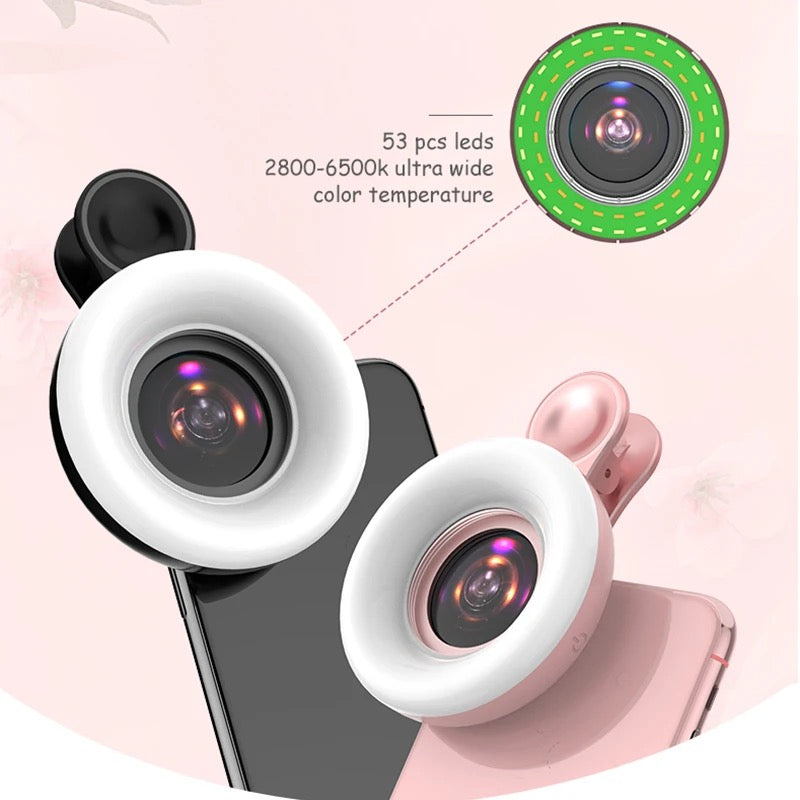 1-Piece Mobile Photography Solution: Macro Lens and Mini Clip Ring Light for iPhone and Android – Portable Rechargeable Dimming
$29
Elevate Your Lash and Brow Artistry with Our Pro-Grade 15X Zoom Macro Lens and LED Ring Light Combo Unleash your artistic potential and transform your lash and brow game with My Absolute Beauty! Our specialized 15X zoom macro lens and LED ring light tailored for the discerning beauty professional. Designed to capture intricate details and razor-sharp close-ups, our macro lens is your ultimate tool for showcasing the intricate textures and precise craftsmanship that define your lash and brow work. Precision-Focused Excellence: 15X Zoom Macro Lens Step into a world of microscopic mastery as you capture the finest nuances of your lash extensions and brow enhancements. Our 15X zoom macro lens is meticulously engineered to magnify every lash strand and brow stroke, ensuring that your work is flawlessly presented in high-definition detail. Achieve stunning, crystal-clear macro shots that highlight your artistry's intricacy, setting you apart in the competitive beauty landscape. Tailored Illumination: 53 LED Ring Light for Artistry Enhancement Master the art of illumination with our customized LED ring light, meticulously crafted to complement the needs of lash and brow technicians. Illuminate your clients' features with three distinct lighting modes: the warm embrace of 3000K for a soft ambiance, the professional elegance of 4500K cool white, and the natural radiance of 6000K daylight. With adjustable brightness levels at your fingertips, bring out the finest details in your lash and brow transformations and create captivating visual content. Craftsmanship Meets Durability: Secure Clip Design Crafted with your professional needs in mind, our clip design strikes the perfect balance between durability and stability. Safely attach the lens and light to your device without compromising the integrity of your tools or workspace. Compact and portable, our macro lens effortlessly accompanies you to photo shoots, client consultations, and beauty expos, ensuring you're always prepared to capture your artistic prowess. Empower Your Creativity with USB Convenience Empower your creativity with our hassle-free USB charging feature. With a single charge, indulge in up to 100 minutes of continuous usage, providing ample time to capture multiple angles and showcase various lash and brow techniques. The fast-charging USB port seamlessly integrates with your professional setup, ensuring you remain in control of your artistry without interruption. A Trusted Partner in Beauty Excellence Crafted with the lash and brow technician in mind, our macro lens and LED ring light duo embodies precision, professionalism, and artistic finesse. Elevate your beauty journey and receive unparalleled customer support tailored to your industry-specific needs. Our dedicated team is here to guide you through any questions or concerns, ensuring that your lash and brow artistry flourishes under the spotlight of our cutting-edge tools.
No Hidden Costs!
Say goodbye to surprise fees at checkout and enjoy the peace of mind that comes with free shipping on all orders over $150.
Advanced Technology
Stay ahead of the curve with our selection of products that use the latest technology to deliver professional-grade results.
Professional Use Only
Join the ranks of top beauty professionals and elevate your game with our exclusive line of professional-use products.