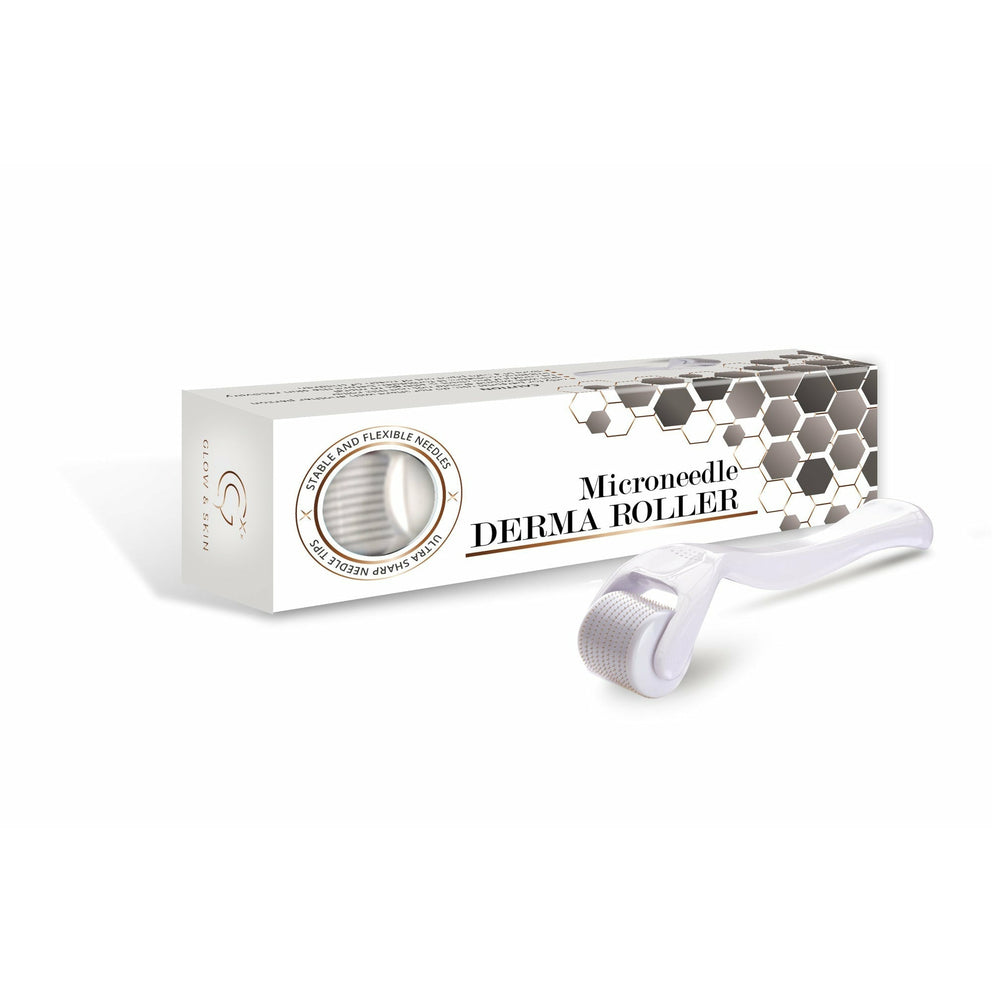 G&S | Microneedle Dermaroller
$13
Glow & Skin Microneedle Dermaroller Suggested Retail - $20 USD   Glow & Skin Microneedle Dermaroller is an effective cosmetic device used for the treatment of scars, especially acne scars, stretch marks, wrinkles, and for facial rejuvenation. Dermarolling can be performed on its own or with active serums and in combination with other skin treatments to give enhanced results which makes its versatile and profitable. Derma roller can be an 'in clinic' treatment as well as supported with home care devices to maintain results. 540 - Titanium Needles Stable and Flexible Needles Ultra Sharp Needle Tips Aims These cause changes in the skin that bring about rejuvenation and other skin health benefits which include; Reduction in the appearance of scars, acne scars, and stretch marks  Promotes smoother skin and improved texture. Skin is brighter and evens out skin tone. Reduces the appearance of pigmentation and age spots. Minimizes the appearance of fine lines and wrinkles. Skin is instantly glowing, refreshed, and rejuvenated. Stimulates fibroblasts which in turn increase collagen production and growth factors. Skin tightening. Benefits Other benefits include; Safe and predictable treatments. Because the length of the needles on the Derma roller is set, they are safe and easy to use even in darker skins. Can be used on many skin conditions and types including dark skin, pigmentation, sun damage, and scarring. Provides deeper product penetration for the cocktail of serums, anti-aging serums, and growth factors that are used in conjunction with the treatment. Increased absorption can be as much as 80% so better value for money from products and increased efficacy. Depending on the length of the needle the recovery time is very quick. Can be supported with home care derma roller and topical skincare in between salon visits.   Use it with our Zensa topical anesthetic and our 👉Glow & Skin Hyaluronic Acid  👈
G&S | Microneedling Starter Kit
$253
  Glow & Skin Microneedling Starter Kit Microneedling has been around for years. Getting into microneedling and getting the right products on the other hand can be troublesome. Introducing the Microneedling Starter Kit by Glow & Skin. This kit comes with everything you will need to provide the service.  Pick up the Glow & Skin Microneedling Starter Kit today and get started with this amazing service!  Included in the Microneedling Starter Kit; 1 - Ultra Glow Cleanser 1 - Skin Balancing Toner 1 - Hyaluronic Acid Jelly Mask 1 - Pure Hyaluronic Acid LH Serum 1 - Brightening Eye Cream 1 - Youth Boost Moisturizer SPF 30 5 - Microneedle Dermarollers Click the item to be redirected to the product where you can find more details and benefits. Looking for additional microneedling training or looking to brush up? Check out our 👉Glow & Skin  Microneedling Course👈 *For Professional use only.
No Hidden Costs!
Say goodbye to surprise fees at checkout and enjoy the peace of mind that comes with free shipping on all orders over $150.
Advanced Technology
Stay ahead of the curve with our selection of products that use the latest technology to deliver professional-grade results.
Professional Use Only
Join the ranks of top beauty professionals and elevate your game with our exclusive line of professional-use products.